Hydrant Guard Update: Q1 2022
From a milestone functional test to a fantastic set of in-person events, 2022 is already a busy year for the Hydrant Guard team. Read on to find out what we've been up to, and what's still to come in the summer season.
Hydrant Guard Passes the Tests
Walnut Valley Water District conducted a number of tests on both HG1 and HG2 breakaway check valves, measuring key parameters like flow reduction and geyser prevention.
Watch the video below to learn how they set up the tests, and to see Hydrant Guard in action.
2022 Event Recap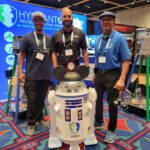 CA/NV AWWA Spring Conference 2022
This Disneyland conference took place in early April. H2G2, our team's friendly droid, got to wear his Mickey Mouse hat. We also won an award for originality & effectiveness of design in our booth.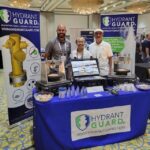 California Rural Water Association Expo 2022
This Lake Tahoe event was one of the friendliest and most dynamic exhibits we've presented. Jesse Anderson, Hydrant Guard's Sales Manager, even got to grab the mic and emcee our gift card giveaways.
Upcoming Events
Hydrant Guard will be exhibiting at the following events in 2022. Come visit our booth to learn more about HG1 and HG2 breakaway check valves, meet our team and pick up some cool swag!