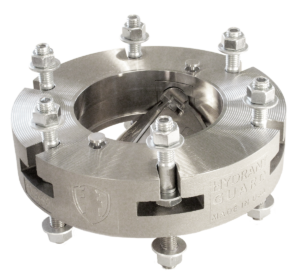 | | |
| --- | --- |
| Pressure rating | 250 psi |
| Material | Stainless steel |
| Breakaway bolts | HGBB-01-625 |
| Profile height | 2.5" |
| Maximum recommended riser height | 2" |
How Does the HG1 Fire Hydrant Breakaway Flange Work?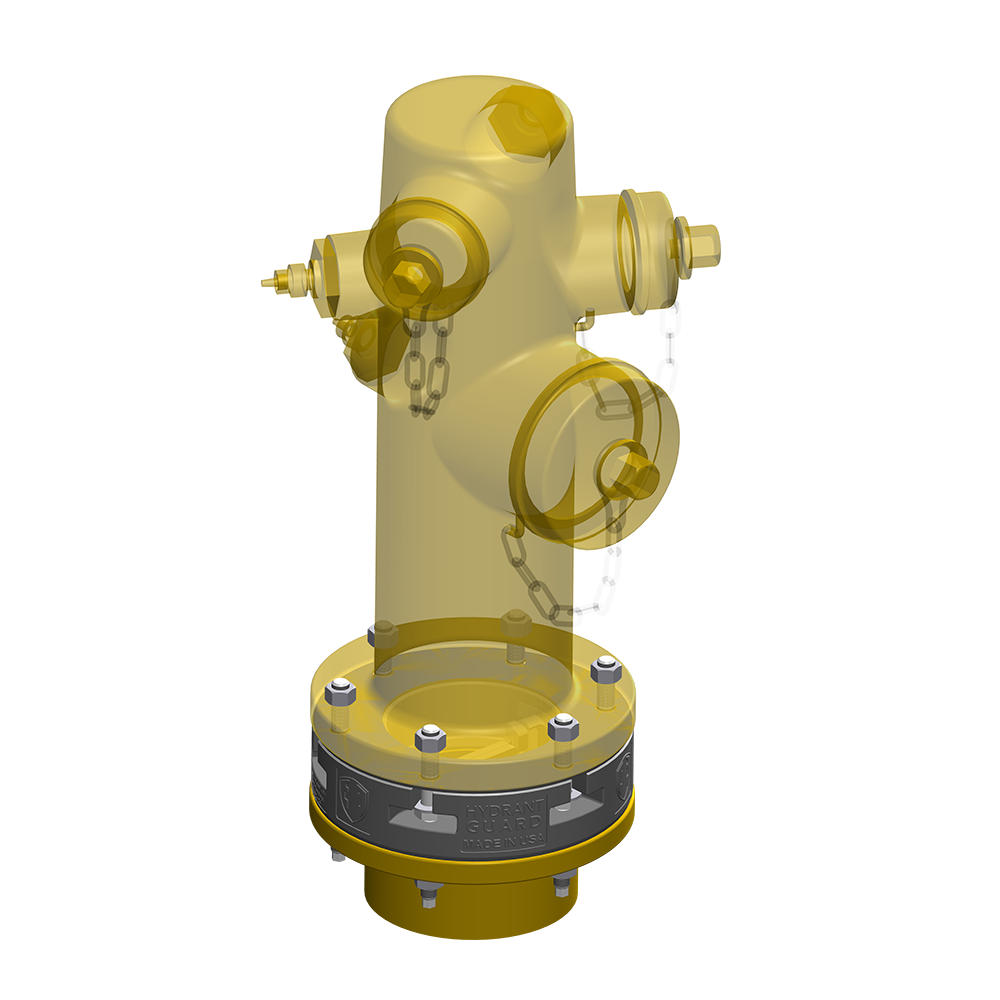 HG1 during normal operation:
HG1 dual plate check valve resides between the water main and the hydrant, allowing nearly full flow capacity when the hydrant is needed.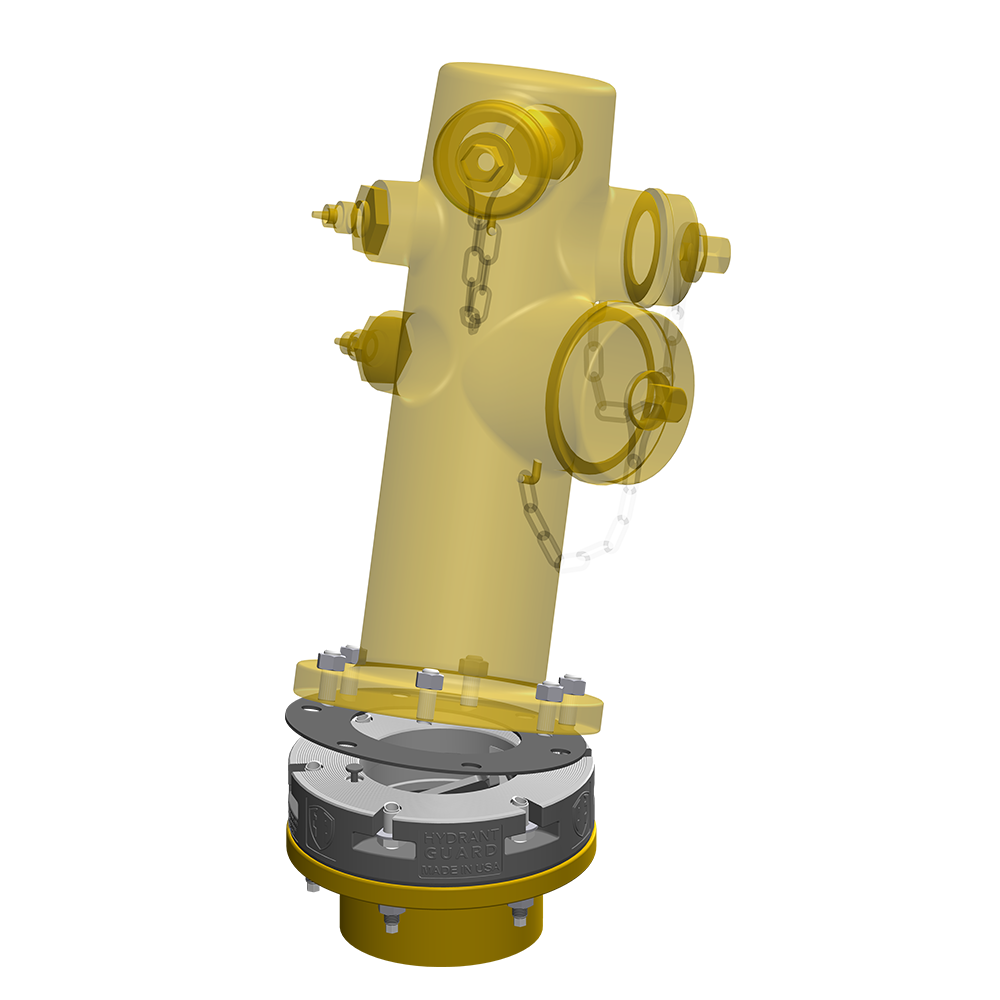 HG1 immediately following a shear:
When a hydrant is sheared (broken), HG1's breakaway bolts snap and the valve doors spring shut as the hydrant separates from the valve.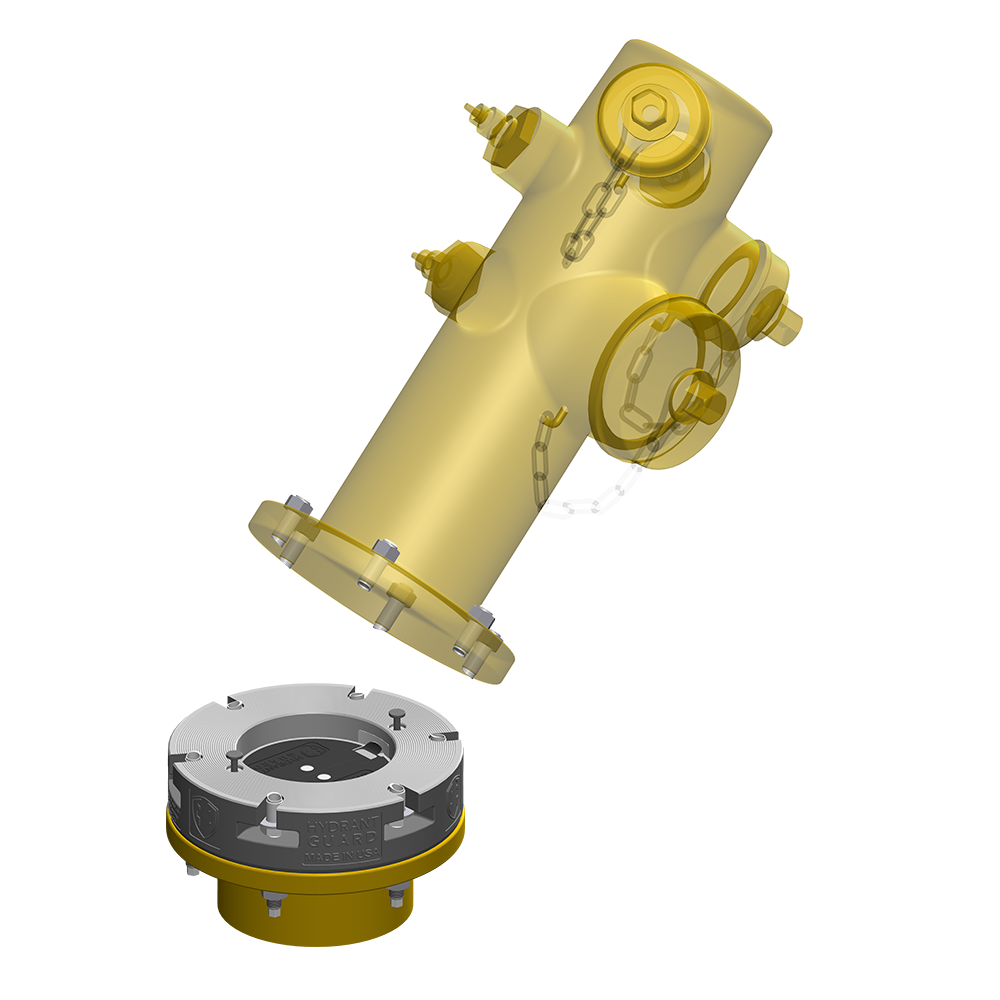 HG1 following a hydrant shear:
As the hydrant fully separates from the valve, HG1 effectively shuts off flow from the water main. Only a witness spray remains to alert first responders.
 

TOP (Attached with Breakaway Bolts)

BOTTOM (Attached with Solid Studs)

Model

Bolts

Diameter

Bolt Circle

Standard

Studs

Diameter

Stud Circle

Standard

HG1-611-611

6

5/8-11

9.37

AWWA C503

6

5/8-11

9.37

AWWA C503

HG1-611-622

6

5/8-11

9.37

AWWA C503

6

3/4-10

9.49

SAN DIEGO

HG1-611-822

6

5/8-11

9.37

AWWA C503

8

3/4-10

9.49

ANSI B61.1
Don't Risk a Water Emergency: Install HG1 to Prevent Damage from Broken Hydrants
By preventing massive surges of water from sheared hydrants, Hydrant Guard can help reduce the risk of property damage, injuries, and potential legal claims.
Implementing Hydrant Guard can help water districts comply with requirements related to water conservation, safety, and environmental protection.
HG1 is built to last, and we stand behind it with a 10-year warranty.
Key Takeaways from the HG1 Dual Plate Unboxing Video:
The HG1 valve is made entirely of stainless steel.
The box (as shipped) includes breakaway bolts, two EPDM gaskets, six grade two hollow breakaway bolts, six nuts going up to the hydrant, six nuts going down to the riser, and twelve stainless steel set screws.
During a strike, the hollow bolts will break, which disconnects the bottom of the hydrant from the top of the valve, allowing the pins to move. The water will then actuate the plates, causing them to close and stop the water, with only a witness stream serving as a signal.
MORE INFORMATION ABOUT HG1 BREAKAWAY CHECK VALVES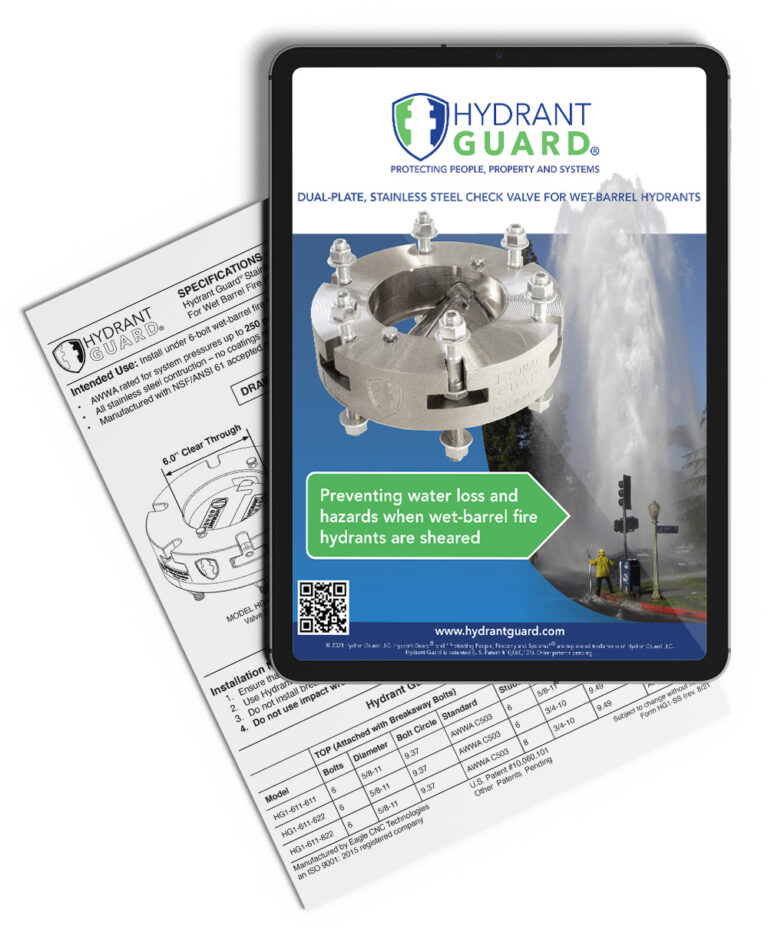 Fill out the form below to download the HG1 Information Packet. Inside you'll find:
Detailed product specifications
HG1 valve components
Dimensional drawings
Installation recommendations
Breakaway bolt specifications