Hydrant Guard Check Valves: Patented Solutions to Mitigate Water Loss from Wet-Barrel Hydrant Shears
Hydrant Guard check valves help reduce liability, improve sustainability, enhance reputation, simplify maintenance, increase resilience, improve resource management, simplify compliance, and provide long-term value.
By implementing our solution, water districts and municipalities demonstrate a commitment to the community by promoting safety, sustainability, and responsible water management practices.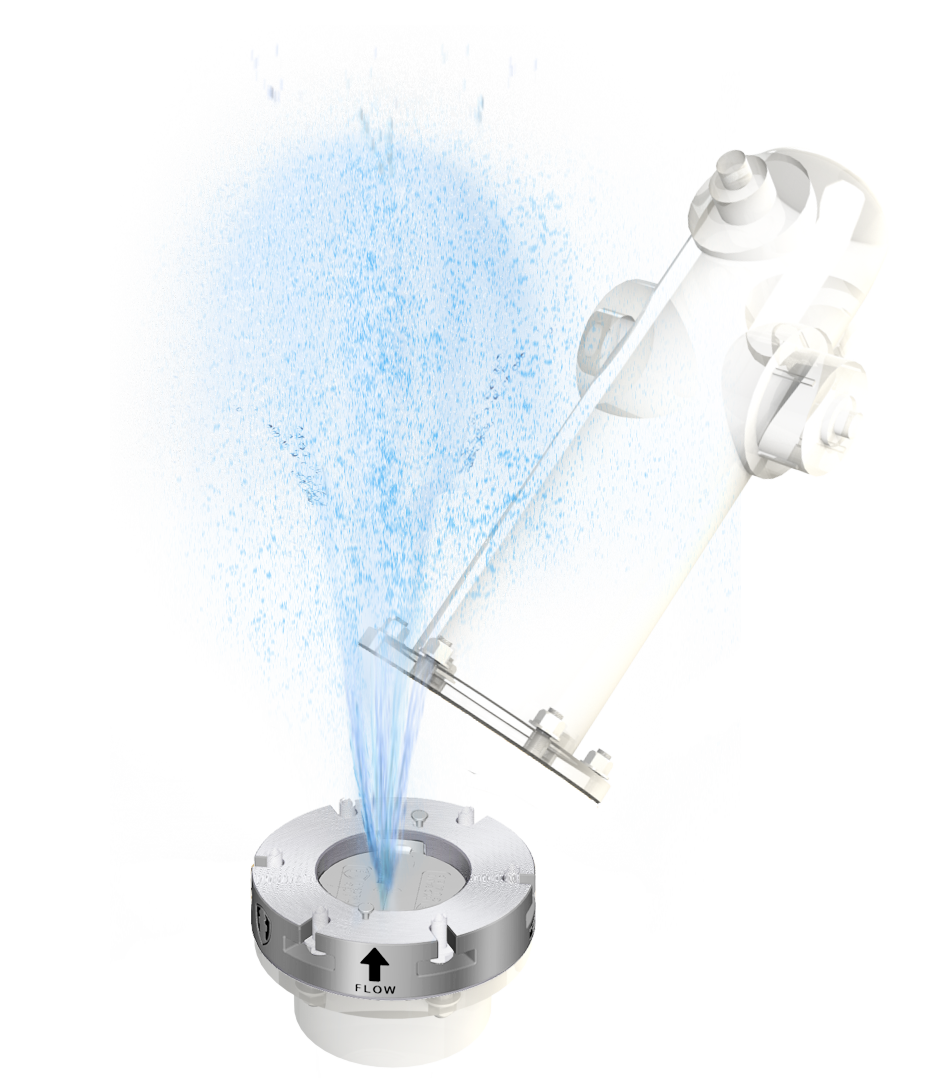 How Hydrant Guard Works
Hydrant Guard can be mounted under any wet-barrel (above-grade) fire hydrant. The entire Hydrant Guard valve sits above ground, between the hydrant and the water supply pipe.
In an undamaged fire hydrant, Hydrant Guard's valve doors sit parallel to the water flow, minimizing their effect when the hydrant is in use.
Breakaway bolts hold the unit to the hydrant. These bolts are hollow so they will break when the hydrant is sheared, separating the hydrant from the flange before the water main pipe itself is damaged.
In the event of a shear, the valves rotate instantly until they are perpendicular to the water flow, stopping the massive surge of water from the water main pipe. Only a small amount of water is allowed through, creating a "witness stream" to alert personnel to the sheared hydrant.
Hydrant Guard is designed so that after a shear only the breakaway bolts need to be replaced.
Hydrant Guard at a Glance
When wet-barrel fire hydrants are sheared, they often fail to hold down their water supply. A sheared hydrant can discharge water at hundreds, or even thousands, of gallons per minute. Multiplied by the number of vehicles striking fire hydrants in the United States, the total water loss is staggering.
Hydrant Guard provides an effective seal that activates when a hydrant is sheared (broken), reducing water loss to the absolute minimum.
In many regions, water is a scarce resource. We can't afford to let it go to waste simply because fire hydrants are inadequately prepared for a strike. Hydrant Guard provides an easy, elegant solution that can be retrofitted onto any above-grade fire hydrant.
The Hydrant Guard Advantage
As a solution to wet-barrel hydrant shears, Hydrant Guard is in its own league.
The Hydrant Guard system is installed completely above grade, reducing installation costs and eliminating the need to excavate or alter the water main riser. Its breakaway design allows repair crews to reinstall or replace a sheared hydrant quickly and easily.
Hydrant Guard is also resettable. After a strike, the system can be reset and re-installed in as little time as it took to initially install. In most cases, only the breakaway bolts need replacing, while the valve continues to function as expected.
During normal hydrant operation, Hydrant Guard's design maximizes water flow. Since the valve doors remain parallel to the flow direction, firefighters will not experience a significant drop in water pressure or flow.
Most importantly, Hydrant Guard is built to provide effective protection for years under strenuous conditions. Hydrant Guard is 100% designed and manufactured in the United States to the highest quality standards.