Discover How Our Innovative Technologies Are Helping Water Districts Save Water and Prevent Costly Damage
Broken wet-barrel fire hydrants are a common issue that can result in extensive water damage to streets, sidewalks, and buildings – as well as resulting legal claims.
Fortunately, hydrant check valves offer a solution to this problem by preventing massive water surges from sheared hydrants.
Why wet-barrel hydrant shears are a problem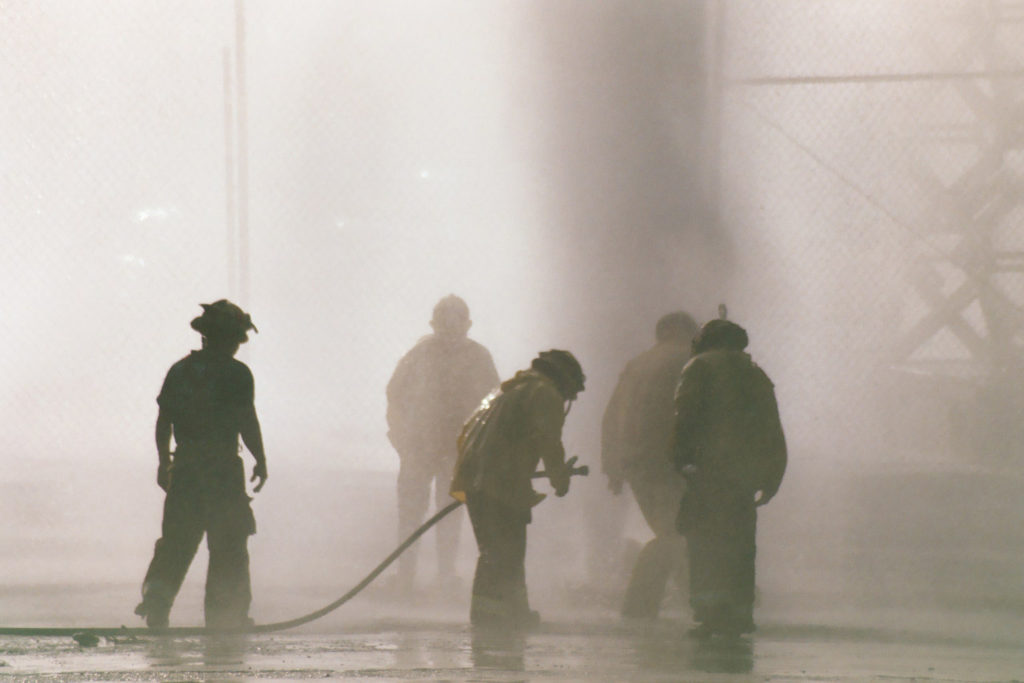 Imagine a scenario where a vehicle accidentally shears a fire hydrant in your neighborhood. Within seconds, thousands of gallons of water gush out of the broken hydrant, flooding the streets and sidewalks. The water quickly penetrates nearby buildings, causing water damage and potentially more severe problems.
When wet-barrel hydrants are sheared by vehicles, debris, or other forces, they cannot retain the water below them. Moreover, it can take 45 minutes or more to shut down a sheared hydrant.
During this time, cities can lose tens of thousands of gallons of water – or more – from a single incident.
How Hydrant Guard Innovates Hydrant Protection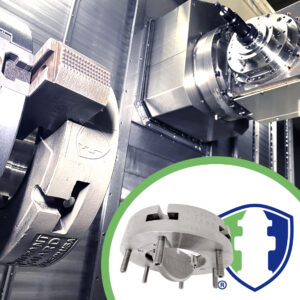 Repairing or replacing hydrants after a shear can be challenging using traditional hydrant protection methods. To address this issue, the Hydrant Guard team developed a product that can easily be installed under any existing wet-barrel fire hydrant. Instead of forcing water districts and emergency crews to address water loss and property damage after a shear, Hydrant Guard valves automatically keep that water in the ground.
We made our products easy to install and easy to reset because we know that municipalities and water districts often have limited time and manpower. Our wet-barrel hydrant check valves work with breakaway bolts, making it easy to reset the system after a shear.
To make our solution more cost-efficient, our solution makes it is unnecessary to purchase a new check valve after an incident. All you need is a reset kit, which consists of new breakaway bolts and a rubber gasket.
Quality Guarantee: Our product is crafted with high-grade stainless steel to ensure exceptional longevity. Hydrant Guard check valves are designed to be reused, so if you experience multiple shears at the same location, you don't need to purchase a new check valve every time. We back all of our Hydrant Guard valves with a 10-year warranty.
Our Journey: From Concept to Market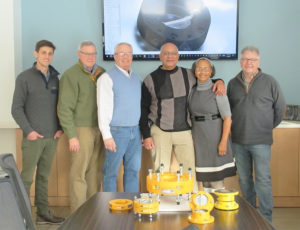 Development of Hydrant Guard began in 2010, in response to the lack of a practical solution for wet-barrel hydrant shears. At first limited to a small group of collaborators, Hydrant Guard incorporated in 2014. The design team then spent several years finalizing blueprints and plans, as well as filing patents, trademarks and copyrights.
Early in 2018, Eagle CNC Technologies, Inc., a Michigan-based CNC machining company, joined forces with the Hydrant Guard team. Leveraging over 20 years of precision manufacturing experience, Eagle CNC was able to build on existing Hydrant Guard blueprints to finalize the design and bring Hydrant Guard into reality.
HydrantGuard LLC now comprises key members of the Hydrant Guard founding team and Eagle CNC Technologies. The partnership is dedicated to manufacturing and marketing Hydrant Guard, and to further developing related solutions.
Want to Find Efficient Ways to Improve Your Water District's Performance?
The solution is simple: Hydrant Guard stainless steel breakaway flanges.
Water providers can prevent water damage caused by broken fire hydrants by installing a specialized check valve between the hydrant and its water supply. In the event of a strike, the valve shuts and seals the top of the water main after a strike. Not only does it prevent massive surges of water, but it also mitigates property damage and liability.
Damaged fire hydrants pose significant challenges to property owners, water districts, and municipalities. Water operators not only have to contend with the immediate damage, but also face the costs of repairs and non-revenue water loss.
Hydrant Guard's key features include a witness stream that signals a sheared hydrant, helping to improve emergency response times and reduce the risk of further damage.
Hydrant Guard's breakaway bolts make resetting Hydrant Guard valves simple and cost-effective, allowing small crews to easily put sheared hydrants back in action.
By investing in Hydrant Guard, water providers can benefit in several ways:
Reduced liability

Improved resource management

Environmental protection

Enhanced reputation
Want to learn more about Hydrant Guard and find out how your water district can adopt this solution? Contact us today and schedule a consultation.